We run your books, so you can run your business.
Simple.
Here at KPM we work with you so that we can develop a full and complete understanding of your business. Our tailor-made packages are created to meet your requirements so that we can provide you with the exact service you need. We can ensure that all your records are kept accurately and are delivered on time.
Our Prices Per Month:
Gold Package starts from £279.99
Silver Package starts from £149.99
Bronze Package starts from £99.99
Choose one of our packages and take back your valuable time!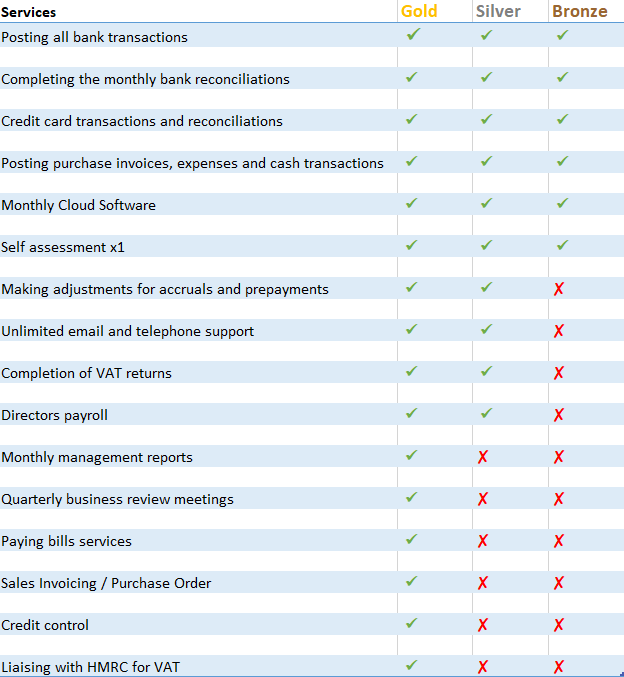 Optional Bolt on Packages:
-Completion of monthly CIS returns
-Registering / Deregistering for VAT
-Set up of Cloud Software
-Transfering to Cloud Software Payroll package
DO YOU WANT TO?:
-Customerise your invoicing and set up recurring invoicing,
-Speed up when you get paid by sending invoices on the go,
-Have a dedicate team always on hand to answer your questions,
-Know how well your business is doing each month,
-Say goodbye to the hours that you spend bookkeeping or chasing unpaid invoices.
THEN LET US:
-Keep track of yours sales, purchases, payments and receipts,
-Organise, collate and record financial data on a regualar basis and store this information in your genral ledgers,
-Compile your financial data,
-Provide you with the information for those day-to-day decisions.


To disscuss how we can help to relieve you and/or your staff of the enormous burden that is bookkeeping, give us a call today to obtain a guide to our fees or to book an appointment. Please contact us if you need further advice or have any questions about out services on:

Landline – 01634 718247

Mobile – 07754106780